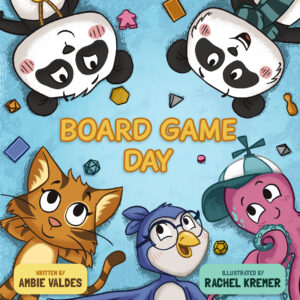 Board Game Day
A rhyming children's book about the fun of board gaming
YouTube music video coming soon!
Kindle & hardcover versions available on Amazon: US | UK | DE | FR | ES | IT | NL | JP | BR | CA | MX | AU | IN
Board book version available on the BGG Store
Thanks so much to all our Kickstarter backers for funding the printing of this board book!
---
I wrote Board Game Day, a rhyming children's picture book about the fun of hosting a board game day! The book is 16 pages that are fully illustrated by Rachel Kremer (from Semi Co-op). The story follows a group of friends (two pandas, a cat, a bird, and an octopus) as they prepare for and have a board game day. The illustrations include many actual children's board games that your kids may recognize!
Author: Ambie Valdes
Illustrator: Rachel Kremer
Published by: Ambie Valdes, 2022
ISBN-13: 979-8-9866570-0-4 (board book)
ISBN-13: 979-8-9866570-2-8 (EPUB)
ISBN-13: 979-8-9866570-1-1 (hardcover)
Videos
You can join our Facebook group for updates, or sign up for my mailing list below
Reviews
Video Reviews