I decided to make a personalized children's book for my friend's daughter for Christmas (don't tell her! I don't think she reads this). She has a daughter who's 5 months younger than my twins and they play together a lot, so I made a story about the three of them and will be using photos of them. And as I'm making it, I'm getting practice for planning the layout for Board Game Day!
At first I thought I could just get some photos, put some text over it, and that would be it. But doing that is more difficult than it sounds at first, because there's a lot to think about as you're placing the pictures and text. You need to think about the order of the photos, make sure there's a spot to put the text, and figure out the layout if you have multiple photos on a spread (a spread is the two pages opened up). At the time I'm working on this, we're also working on the sketches for Board Game Day, so I'm getting good practice in making sure the text and illustrations work well together.
I also don't necessary want the text in the same place on each page, so every page has its own individual layout depending on the pictures/illustration. I've been reading a lot of children's books to my twins and that has helped me figure out ideas for layouts. But it's still a lot of stuff to think about for someone self publishing a children's book for the first time!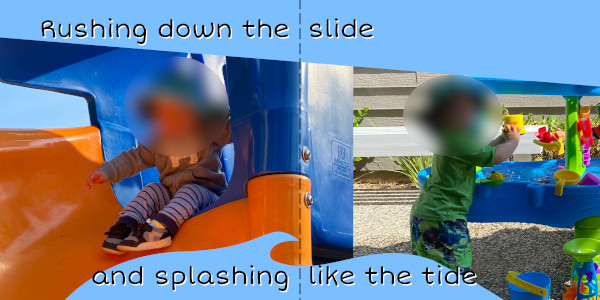 And if you want to know what I'm using to print the personalized book, I'm using Costco Photo Center! If you're just making one picture book for a gift or a prototype, I think using a photo book printing service makes sense. This won't work for board books though, since the photo book printing services that I could find were all just regular paperback or hardcover. But I'm pretty excited for this gift and I hope my friend likes it!